Before making any changes to modem/router settings you must ensure you write down your default settings so you can  return to these if you have any problems 
Login to the Netgear CG3000 Router
The Netgear CG3000 has a web interface for configuration. You can use any web browser you like to login to the Netgear CG3000. In this example we'll use Internet Explorer.
Enter Netgear CG3000 Internal IP Address
Put the Internal IP Address of your Netgear CG3000 in the Address Bar of your web browser. It looks like this:

Then press the Enter key on your keyboard. You should see a dialog box pop up asking your for your Netgear CG3000 username and password.
Netgear CG3000 Default Username and Password
You need to know the username and password to login to your Netgear CG3000. All of the default usernames and passwords for the Netgear CG3000 are listed below.
| | |
| --- | --- |
| Netgear CG3000 Usernames | Netgear CG3000 Passwords |
| admin | password |
Enter your username and password in the dialog box that pops up. It looks like this: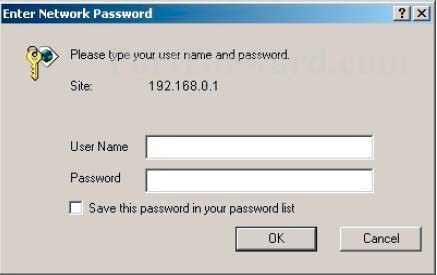 Netgear CG3000 Home Screen
You should now see the Netgear CG3000 Home Screen, which looks like this.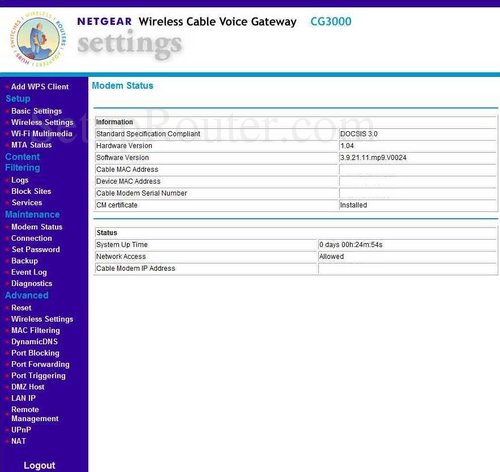 Change the DNS settings on a Netgear CG3000
If you followed our login guide above then you should see this screen.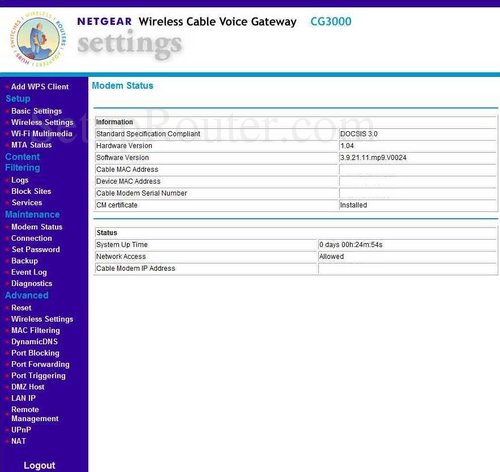 You begin on the Modem Status page of the Netgear CG3000 router. To change the Domain Name System (DNS) settings, click the choice on the left side of the page labeled Basic Settings.
Configure the DNS section of your Netgear CG3000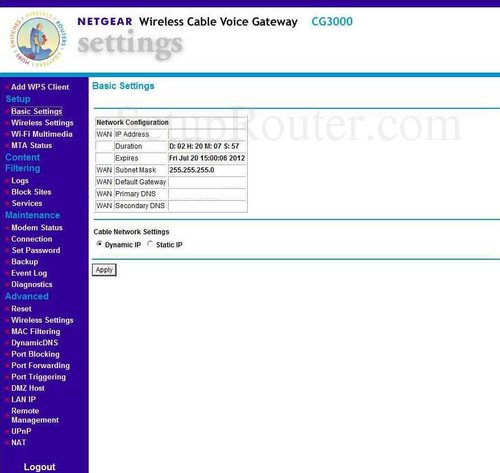 You are now on the Basic Settings page. This is the only screenshot we have of a DNS server for this router. Generally the WAN DNS is used for updates and the LAN is primarily used for day to day use. If you can find another DNS server page for this router, please let us know.
We still recommend setting this DNS server if possible. If your Cable Network Settings are set to Static IP enter the primary address of the DNS server you want to use in the boxes labeled Primary DNS. Enter the secondary address of the DNS server in the boxes labeled Secondary DNS.
Using a pair of Unblockr addresses from the list below 
UK DNS1 = 178.62.57.141
UK DNS2 = 139.162.231.18
USA DNS1 = 138.68.29.183
USA DNS2 = 159.203.58.150
Canada DNS1 = 159.203.58.150
Canada DNS2 = 138.68.29.183
Germany DNS1 = 68.183.215.9
Germany DNS2 = 161.35.23.59
When you're done, click Apply.
Possible Problems when Changing your DNS settings
 Most devices on your network will not begin using the new DNS settings until they have been rebooted. After rebooting a device you can go to it's network settings and verify that it is using the DNS servers that you specified.
For further support please access our Unblockr Facebook community as you may find lots of ready made discussions with solutions are already posted 
https://www.facebook.com/groups/unblockr/
Thanks